Road Closure Notice
What You Need to Know
For most visitors, the partial road closure of Francisco Blvd. W will not affect your travels to Mercedes-Benz of Marin. Whether you are traveling North or South on Highway 101 to our dealership or visiting from the East Bay via Highway 580, most routes will not be affected. For those traveling from Downtown San Rafael or taking an alternate route, use Lincoln Ave. to to Rice drive to reconnect with Francisco Blvd. West and Mercedes-Benz of Marin. For commuters using Bellam Blvd. or Francisco Blvd. W. exits, your route remains clear.
Road Closure Notice: More Details
Road Closure Notice: Francisco Blvd. W.: Beginning on Thursday, July 5, Francisco Blvd. W. will be closed between 2nd St. and Rice St. as a part of SMART's construction of the Larkspur rail extension. This section of Francisco Blvd. W. will be closed through the end of 2018.
Road Closure Notice: Intersection at Andersen Drive and Francisco Blvd. W.: The Andersen/Francisco W. intersection closure has been postponed per direction of the City of San Rafael.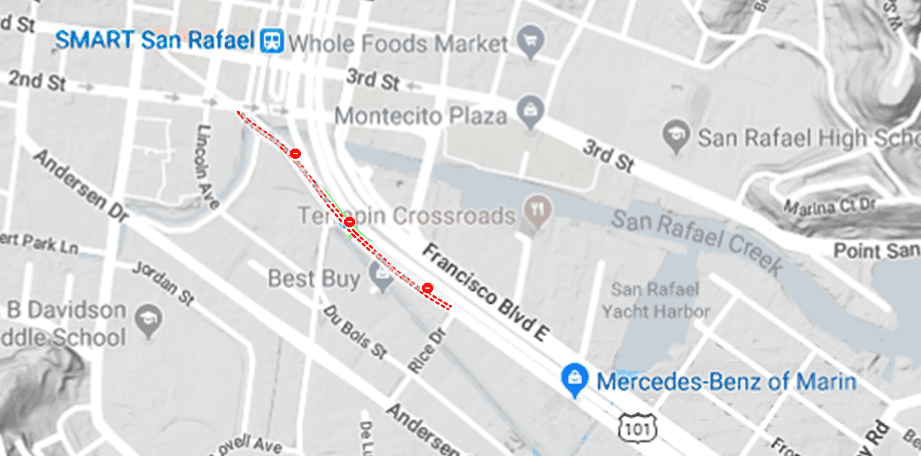 Reasons for Closure: SMART Larkspur Extension Project
SMART has begun construction of its extension to Larkspur. The project includes a terminal station in Larkspur, three bridges and utilizes the recently (2010) rehabilitated Cal Park Tunnel that connects San Rafael and Larkspur. Signals and systems testing will be conducted following construction. SMART trains service to Larkspur is projected to begin by the end of 2019.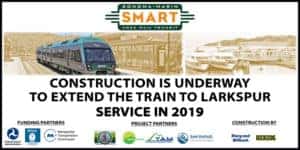 For more information about the Larkspur Extension Project – call the Larkspur Extension Project Hotline: 800-959-8660 or visit the Sonoma Marin Train Website.
Still Have Questions?
Our staff would be happy to assist you in your travels and routes. For sales guests, call 415-455-5508. For service guests, call 415-455-5566. Alternatively, contact us with a brief message and we'll be in touch shortly. Thank you for choosing Mercedes-Benz of Marin and we look forward to seeing you soon!
Quick Links